The car flag contains the car cover flag, the car mirror flag, the car window flags.
Car window flag refers to the hanging, paste the decoration on the vehicle with the flag, the traditional car flag triangular flag, four corners of the flag. At this stage the flag needs to be customized according to customer needs, different shapes.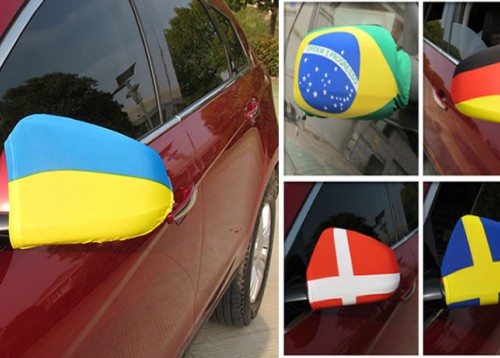 car mirror flag
Material and craft of car flag
Car window flag production used in the banner fabric is Chun Yafang 170T or knitted polyester. We can customize special fabrics according to customer requirements.
The car flag with a unique printing technology, process innovation, printed flag color fastness, bright and bright, waterproof, sunscreen, wind, do not fade.


car window flag
The type of the flag
The car flag according to its role can be divided into: patriotic flag (national flag), holiday flag, wedding flag, funeral flag and so on.
The size and specifications of the car flag
Commonly used window flag specifications and hand flag specifications, there are: 14 * 21,20 * 30,30 * 45cm and so on. We can according to customer requirements to produce a variety of flag different window flag.
What are the characteristics of the car flag?
Car window flag to be suspended, paste in the vehicle, for decoration display, so the need for bright colors, bright colors, wind and water protection sunscreen, do not fade. Higher quality requirements.
Adnose.com offers a variety of flags, flags for car, hand flags, beach flag, etc., fine workmanship, support personalized custom.